Holidays are possibly the greatest marketing opportunity in the entire year, especially during the December season when people wind down and bask in the season of giving and gifting.
As a smart marketer, you want to stay on top of your game above all this festive frenzy and promotional noise, so it is important to have a good strategy to make full use of this opportunity, which could bring about amazing returns when done well.
Research has found that the most ROI-friendly activity on Facebook tends to be around the Thanksgiving period, and not from mid-December till the end of the year like most brands traditionally believe. As consumers are becoming more aware of promotional activities during this period, they are starting to make their purchases earlier to avoid getting bombarded by sales messages.
(Source: https://www.pinterest.com/pin/389068855282645379/)
With this piece of information, don't miss out the opportunity to engage with them, drive traffic to your websites, and convince visitors to make the purchase online or go to your actual store locations.
If you are starting to worry that you do not have any festive promotional plans by now, fret not, for we have got some last-minute digital marketing campaign plans for you — from conceptualizing, to tools recommendations to implement them right away! These campaigns can be up and running on your brand's social media channels or microsites in few minutes.
1. Giveaways: It's The Season To Be Giving
The holidays are a great season of giving and receiving, so why not get into the spirit with your fans? You could provide holiday discounts, free shipping, gift cards or even provide support to a charitable cause during this holiday season.
According to research done by the ShortStack team, 59% of consumers claim to be more influenced to purchase via social networking sites during holiday seasons if exclusive discounts are offered. Although there are numerous ways to do this, for example via holiday special discounts, free shipping, gift cards this holiday season, we recommend ecommerce stores to ride on the coupon craze.
Case Study
Moosejaw organized a 20 days giveaway in December on their social media pages, giving out products that they sold or planned to promote in the future. They promoted the giveaway in advance, and also encouraged people to interact for a chance to win (such as sharing and retweeting a message about the contest).
(Source: http://www.moosejaw.com/moosejaw/shop/content_lp-20-days-giveaway____)
The results of the whole campaign: 45% more Twitter followers, 31% more Facebook fans, and even a 10-15% increase in sales during the period.
Brands That Can Benefit From This
F&B companies, fast food companies like Texas Chicken can give away free side dishes when purchasing a main dish.
Clothing brands such as Zalora can give away a watch that fits well with your tees.
Conference – Give away a pile of books from featured speakers.
Auto dealer can give away camping gear to fit SUVs.
Want a step-by-step guide on how to execute these suggested festive digital campaigns? 
Here, we have compiled a list of 12 last-minute campaigns with a step-by-step guide on how to execute them that you can directly lift off to get your festive campaign going. –> Click here.
2. The Anti-Holidays Promotions
Instead of following the crowd behavior during this festive season to offer sharp discounts to your customers and risk profitability of your business, why not stand out from the crowd by doing the opposite?
Case Study
In 2013, Cards Against Humanity, a popular party game did a bizarre move by raising their prices by $5 on Black Friday when most companies out there are slashing price. It was intended to be as a joke, but the game outperformed its sales from other days where it is normally priced.
(Source: http://allthingsd.com/20131203/cards-against-humanitys-sales-increased-during-black-friday-price-hike/)
In 2014, Card Against Humanity took things further on Black Friday by removing the game from their store and selling a box that sold 'Bulls**t', and the purchase page assured shoppers they were literally buying faeces from a bull. They sold out within the day.
Brands That Can Benefit From This
Brands that pride themselves as being 'against the norm' and anti-establishment would probably do well with a campaign like this.
Brands that are edgy and creative.
3. Promote For A Great Cause
Since the holidays are a great time to give back, why not support a cause this holiday season too? The Cone's Holiday Trend Tracker survey determined that 89% of consumers want companies to support causes, which is nearly 9 out of 10 people! You can easily support a cause by donating a percentage of your sales.
This campaign works great because people love to support causes. It is a great way to get people to want to buy your brand more if they know it would contribute for a greater cause.
Case Study
Macy's Believe campaign supported the Make-A-Wish Foundation by donating $1 every time visitors wrote a letter to Santa about the idea of 'giving'. This campaign helped Macy's create buzz and goodwill for the brand. The program is still going strong, currently at its 7th year in 2014.
(Source: http://www.instant.ly/blog/2013/11/do-you-believe-in-magic-macys-partners-with-the-make-a-wish-foundation-for-this-years-holiday-campaign/)
Brands That Can Benefit From This
F&B Companies such as Four Leaves can support soup kitchens by donating their bread, or causes related to ending world hunger such as the United Nations 'World Food Programme'.
Fashion brands like bySI support causes that provide clothing to the less fortunate.
SMEs and smaller outfits can use this opportunity to give back to the local community. (We love this!)
4. Fan-Generated Content
One surefire way to grab the attention of your fans is to engage them with what the content that they have generated in the first place. Take this festive opportunity to thank and acknowledge your fans for their support by highlighting their submissions or contribution, which makes them feel extra special during this occasion.
Case Study
GoPro is holding an on-going contest to source out great videos from users, featuring photos and video of the day on their social media account. The campaign not only helped GoPro interact with their fans more, it also helped them to acquire more sales.
(Source: https://gopro.com/submit/)
Brands That Can Benefit From This
Clothing brands such as X-Tomic and 77th Street can get fans to submit pictures of them wearing their clothes.
F&B companies such as HANS can ask fans for their pictures of them in their restaurants.
Retail companies such as Charles & Keith can get fans to pose with their stylish footwear.
5. Vote For New Products Or Ideas
A great way to interact with your fans is by making them feel involved, and one way to do so is to ask for their votes. While voting helps you to generate more suggestions for new ideas and products, it is a fantastic way to empower your fans and let them have a say on your future products in the following year. It is also easy to set up a contest on Facebook where users can easily sign up and share the contest around with their friends, and getting more reach to more users and create more buzz for your business.
Case Study
Stitch Collective organised a voting contest between 12 bag designs and allowed fans to vote for their favourite bag. Fans had to log into Facebook to vote, and could share the contest easily with friends too. The result of the contest was about 4,000 votes with about 2.5 million customers who viewed it.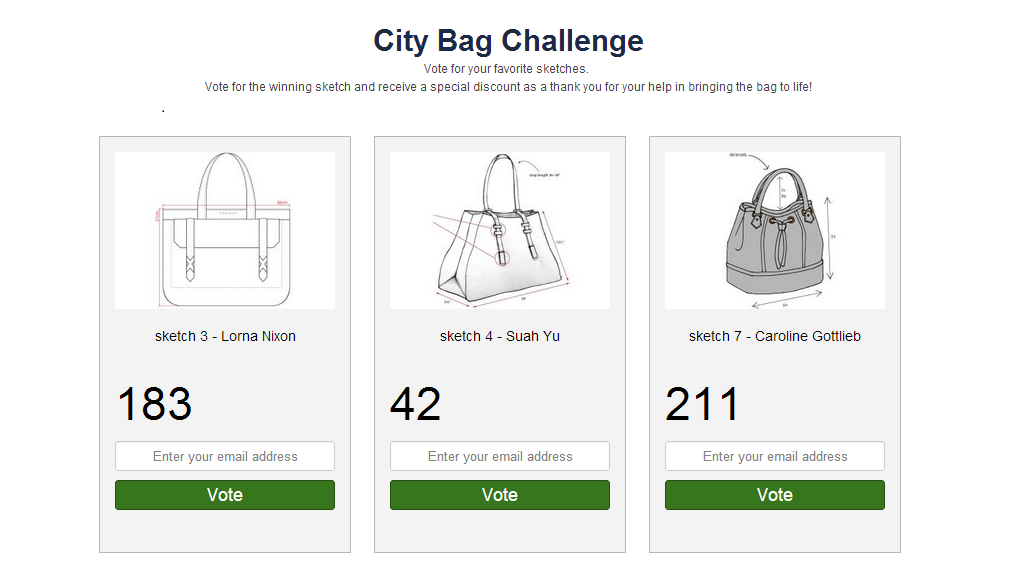 (Source: http://www.prweb.com/releases/wishpond/stitchcollective/prweb10823108.htm)
Brands That Can Benefit From This
Ice cream or frozen yogurt parlours such as, Salted Caramel and llaollao, could ask patron for a new ice cream flavour.
Interior design firm get ideas for a new lamp design.
Brands could ask users what they like to see in the following year, or a showdown between their favorite flavors.
 6. "Caption This!"
Besides it being a low-cost option, a campaign surrounding letting your fans caption photos can give your audience a peek into the humans and personalities behind a brand, and putting faces to your products and services could inspire trust that would bring you a long way.
It is a fun and interactive way to boost community engagement, and allows customers to engage with your brand.
Case Study
You will find several companies like Walmart and personalities such as Ellen Degeneres who are gaining a massive fan base by simply asking people to caption funny pictures.
(Source: http://www.ellentv.com/2012/06/13/caption-this-heres-lookin-at-you/)
Brands That Can Benefit From This
Food companies like Breadtalk usually feature their bread in funny ways, and can be done with many other food products.
Pet shop owners like Pet Lovers Centre can feature funny animal pictures and ask fans to caption.
Get fans to caption pictures that are related to your brand and industry. The picture should be interesting and compelling for fans to want to participate.
 7. All your Fans Want For Christmas Is ….
Wishlists are a great way to see what your fans want. Let your fans choose gifts that they want from your list, and allow to share their wish list with you or on their profile. Give them a reward incentive such as a chance to win their wish list, or related gifts such as cash vouchers.
Hot tip: Since wishlists helps you see what your fan wants, it provides you the information on which product you are more likely to sell this festive season.
Case Study
Topshop launched a campaign called 'Dear Topshop' on Pinterest. Fans were asked to create 'moodboards' dedicated to their perfect Christmas Day. The board could include decorations, one's dream dress, tree of choice, and any other pins that one liked – from Topshop website and anywhere else.
(Source: http://www.topshop.com/en/tsuk/category/dear-topshop-pinterest-competition-2429598/home)
Brands That Can Benefit From This
Toy companies such as Toys R Us can get kids to create a wishlist of what they want from their brand.
Fashion brands such as Cotton On could get fans create a wishlist of their products.
F&B companies such as Tim Ho Wan, 18 Chefs could ask fans to share their favourite dishes or food products as a wish list.
Supermarket companies like Sheng Shiong, NTUC FairPrice, and Cold Storage can get fans to share their favourite products from their store.
Want a step-by-step guide on how to execute these suggested festive digital campaigns? 
Here, we have compiled a list of 12 last-minute campaigns with a step-by-step guide on how to execute them that you can directly lift off to get your festive campaign going. –> Click here.
 8. Create Gift Ideas For Your Target Market.
Turn the table around and provide your users with gift ideas. Provide gift solutions for different niche of your target market, and your customers will thank you for them! Make your company the solution this holiday season.
People tend to look for the perfect gift, so showing them a catalogue of items that are targeted to their needs would help them speed up the decision process. It also increases the chances of people shopping from you instead of your competitors.
Case Study
Simply Southern Mom created a holiday day guide specifically for moms and added a one line quirky description which helped buyers know about the product just by reading the description. Having a description helps create an image of how the gift recipient could benefit from it.
(Source: http://www.simplysouthernmom.com/2014/10/the-simply-southern-mom-2014-holiday-gift-guide.html)
Brands That Can Benefit From This
Brands that have an E-commerce shop such as Zalora, Lazada or Qoo10 can pull this off easily by categorising their items to target certain target market.
Clothing and Fashion brands such as Giodarno can recommend certain clothes or shoes for giving to a special someone.
9. 12 Days Of Overstocked Products
A 12-day giveaway or 12-day promotion is going to be a sure-hit with your users, as fans would keep checking back with your brand everyday to check out a new deal that you have posted.
Not only would it help you to drive engagement and awareness of your brand, consumers would be more convinced to purchase your brand.
(Extra tip: Start way earlier than Christmas!)
Case Study
Music website Supajam created an advent calendar giving out gifts everyday such as music track downloads, film screenings, free tickets to gigs and exclusive videos. All these were shared to their social platform to drive traffic to their website.
(Source: http://www.supajam.com/blog/article/Supajams-2013-Advent-Calender)
Brands That Can Benefit From This
Clothing brands such as Hangten and Bossini can get give away free clothings for first few customers, and give special discounts for different clothes everyday.
F&B restaurants like Manhattan Fish Market can push promotional food items, or rotate through a discounted menu everyday to push various food dishes.
Retail companies like Japan Home can give away items when customers purchase above a certain value of items, or provide big discounts for stocks you want to push.
10. Quizzes
A fun way to get fans flocking to your page is through the use of quizzes. People love to understand more about themselves, and quizzes play to these needs. The use of quizzes has worked in the early days of Facebook, it has worked for Buzzfeed, and it is likely to work for your brand if used wisely.
Quizzes can be great campaigns when fans and friends are engaged sufficiently to make them feel connected to your brand.
Case Study
Heinz was one of the first in the F&B industry to create a personality quiz titled 'Which bean are you?' in order to promote their new bean product. Participants of the quiz who took and shared the quiz 10 times were given a goodie bag. The result after two weeks was an astounding 22,000 likes, 10,000 shares and reached over 11 million users!
(Source: http://www.business2community.com/social-media/5-clever-social-media-marketing-campaigns-went-viral-0945156)
Brands That Can Benefit From This
Fashion and retail brands such as Forever 21 and Zara  can ask what the fans want most from their catalog of clothes and products.
Food brands like Bee Cheng Hiang can ask what food fans crave during the festive season.
All brands can always create a relatable personality quiz like what Heinz did that relates back to their brand.
11. Brand Your Users' Photos
One way to get into the festive mood is by changing your Facebook cover photo to reflect the holiday. So instead of replacing your current cover photo from your stock photo library, why not run a cover photo design contest and get your fans come up with one? Fans could use customised photos with festive frames or stickers to edit photos of your brand!
It is a great way to interact with your audience, and get them involved with your brand. You could potentially come up with great photos and designs which you could use for your Facebook cover photo, or even your website.
Case Study
Nat Geo launched the 'My Nat Geo Covershot' contest on their Facebook page where fans could submit their photos shots, and the winner's work would actually feature on a cover of a Nat Geo magazine. Fans could easily do this by going to the Facebook page, submit a relevant photo and add caption to create a virtual cover of Nat Geo.
(Source: http://www.business2community.com/facebook/nat-geo-launches-nat-geo-covershot-facebook-fans-can-create-nat-geo-traveller-cover-0855920)
Brands That Can Benefit From This
Fashion brands such as LALU can get fans to submit photos of them dressed in their festive clothes of the brand.
Travel companies such as CHAN Brothers can ask fans to submit photos of travel destination they would love to travel to in a festive season
Any company can do what Nat Geo did and get fans to submit photos of fans using their brands, and tie in the holiday season too.
 12. DIY Tips & How-Tos
While you possibly cannot go wrong with gift ideas, up your ante by giving people an insight into how to use your products to make it more festive.
Providing tips is a great way to showcase your company's resolution to provide fans more ways to enjoy their festive seasons with your brand and products.
Case Study
Martell Home Builders started with content creation on social media that focused on the needs of consumers, having topics like '14 Must-Have Tools for New Homeowners' or 'Home Staging Tips & Techniques'. This resulted in them getting most of their leads from consumers instead of  a middleman which they relied heavily on the past.
(Source: https://www.facebook.com/martellhomebuilders/timeline)
Brands That Can Benefit From This
Supermarkets such as RedMart can provide recipes on how to use their food products to make a festive meal
Fashion brands like Uniqlo can providing tips to maintain the fabric of festive clothings.
IT Companies such as PariSilk can provide tips on how to maintain their electrical equipments
Want a step-by-step guide on how to execute these suggested festive digital campaigns? 
Here, we have compiled a list of 12 last-minute campaigns with a step-by-step guide on how to execute them that you can directly lift off to get your festive campaign going. –> Click here.